MADE is a revolutionary arts organisation
A pioneer, an Australian leader creating spectacular work for audiences by building pathways between the mature non-professional dancer and the professional artist to create high quality dance/theatre productions for global audiences in non-traditional performance spaces.
We are a celebration of movement, artform and wisdom. Founded in 2005 with eighteen years of success, including national and international touring.
Our vision is to lead the dance with high quality original performance, connecting people through participation, ambitiously driving a global agenda, redefining the mature body onstage.
NOVEMBER 2023 MEDIA RELEASE
MADE offers amazing, inclusive and creative dance opportunities for adults of all ages. No experience necessary, just a willingness to have fun and be physical in mind and body. Join us for contemporary, ballet and improvisation classes led by a fabulous and dedicated team of local, national and internationally recognised dance teachers.
MADE creates work that tells stories of lives lived, dreams sought, experiences shared and challenges overcome. We challenge perceptions of dance and the dancer working with courageous ensembles and world renowned choreographers, including Kelly Drummond Cawthon, Angela Strk, Liesel Zink, Sophie Burgoyne, Graeme Murphy, and Liz Aggiss.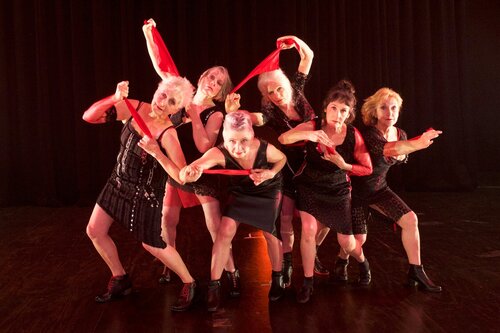 MADE performances celebrate dancers aged 50+. Our performance ensembles are key members of our classes, honing their skills, supporting their peers, as the heart of the MADE family. MADE has performed in venues and festivals across Australia including Mona Foma, Ten Days on the Island, Canberra, Brisbane, King Island and Saitama in Japan.
By making their bodies articulate, the women of MADE expand our notions of how older Australians might live, not simply how they might dance.
Richness of ageing, of experience in life and of the history they have lived. I watched the show and recollected my own life. I cried and laughed.